Ministry to Children and Youth
Nursery/Children's Church
During worship services the nursery takes care of newborns up to 2 year olds. A program of Children's church is available during the morning service for those ages 2-2nd grade providing Bible stories, craft time, and snacks. 
Awana
AWANA is an action packed children's ministry program that includes Bible memory, devotion lesson, and game time for ages 4 through the 6th grades. AWANA meets on Wednesday evenings throughout the school year from 6 to 7:30pm. Local bus pickup is available.
Children's Choir
The Children's Choir meets every Sunday from 6:00 pm to 7:00pm. Open to grades 1-6.
Vacation Bible School
VBS is a night program at MABC during the summer to allow children to learn more about God's Word while participating in fun and themed activities.
Youth
MABC Youth is structured for grades 7-12 and provides a time of relevant life studies from a Biblical perspective on Wednesday evenings at 6 pm and Sunday mornings at 9:45 am. Youth are involved in local missions, concerts, conferences and summer camps.
Backpack Ministry
MABC provides food for the weekend to homes where there may not be enough to eat. Six children's backpacks are filled every week school is in session at the local Elementary School.
Ministry to Adults
Praise Team
MABC Praise team is a group of individuals from the choir that currently lead in worship service on Sunday mornings. The Adult Choir will reassemble for this Fall preparing for our seasonal events.
Operation Christmas Child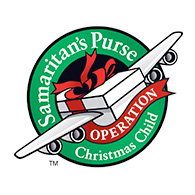 OCC is a project of the international relief organization, Samaritan's Purse. Their mission is to provide local partners around the world with shoeboxes filled with small toys, hygiene items, and school supplies as a means of reaching out to children in their own communities with the Good News of Jesus Christ. MABC puts these shoeboxes together and they get shipped outside the United States to children affected by war, poverty, natural disaster, famine and disease; and to children living on Native American reservations in the U.S.
Women's Ministry
Women's Ministry exists to serve women and to teach them how to serve others. It is action based and focuses on living a Christian life based on the Bible. We participate in helping out our church members including those that are shut-ins and our nursing home residents. We meet one Monday out of the month from September to April with wonderful food, music and activities to help others in our community.
Missions
MABC contributes to many mission inspired activities including local and international missions.
Young Adult Home Bible Study
The Young Adult Home Bible Study takes place on Sunday evenings at 6 pm currently meeting at Jimmy and Sarah Langley's home. Alternate homes will be announced prior to change. Childcare is provided at the church.